Start by The Pain Point of MENU BOOK
Menu Books, the starting point is when I have the responsibility for organizing the Menu Design for 3 family restaurants in Bangkok.
As a designer and restaurant owner at the same time, I would like to have a nice, functional menu book to use in my restaurants. In the beginning, we used the old menu book sponsored by a beer brand. This Menu book did not have a good design and had no food pictures, translation was bad, and it was not well organized. All in all, this menu book did not create an impression and it did little to promote sales for a business, one of the oldest Chinese restaurants in Bangkok's Chinatown (Yaowarat).
Menu book in the Thai market at that time is quite limited. Document folder with a clear pocket, and it is the only one I used. As a result, we had to put up with using it for many years. The cover of the folder was crumpled and deformed and pockets inside were also wrinkled, ripped, and dull. So, I thought that this kind of menu cover is not suitable for use at our restaurants and other restaurants, too.
Menu book which is coating the menu sheet is the idea I was thinking at the time. It looks clear, nice, and long-lasting. However, when used for a long time, the binding loop had been severed. Moreover, I can not adjust the price, I had to use a sticker for changing pricing instead.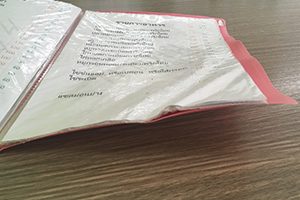 When you use an ordinary clear document folder as a Menu Folder, it deteriorates within a very short time.
Menu Book comes with the spine, it is the weakest point and soon breaks
because the menu covers must be opened a hundred times per day.
 A Thermal Laminated Menu Books look nice, are easy to clean and waterproof, but NOTHING can be changed later on. The Spine, where it Folds, is also a weak point.
Updating Menus
Menu Book, as you know, normally any restaurant has to alter the price of some dishes from time to time. To update the menu, we want to use Menu Book because it is possible to change any page in the menu. (It is necessary to reprint the whole menu book) At the time, there were very few folders to choose from, and I had to use  Clear Folder designed for storing documents. The problem is that the clear folder is not durable enough to be a menu cover. In our busy restaurants, it was wrinkled and torn within a few months.
Born to be "Menu Folder" (Menu Cover)
Until I met a "Menu Book" designed for a suitable "Menu Cover"
Years after years, kept looking for a good quality Folder to be my Menu cover - till one day my sister came back from the USA with a gift: a Menu Cover with clear plastic sheets and with leather edges and metal corners. But In my opinion, this Menu Cover was not the answer at all!! It was far too simple for a luxury restaurant and fabulous menu. I then used this menu cover for a tourist menu set along with the regular Menu Folder, which has a shiny red plastic cover and matches a Chinese restaurant.
After regular hard usage, the condition of the Red Plastic Menu Folders deteriorated as usual, While the Clear Menu Covers from the USA were still in perfect shape. Then I just realized,  WOW…. this one is meant to be used as our Menu Cover!
The Clear plastic sheet not only protects the menu paper inside from water and dirt, but it also fully shows my menu design to full effect too. The leather edge is flexible to open 180 degrees, and it is tough enough even if the menu opens a hundred times per day. (The spine/folding part is the weakest point of the plastic folder)  Although this Menu Cover is more expensive, it is definitely worth using in any good restaurant!
Menu Book for Sharing to Thai Market
Menu Book Models
As E-commerce continues to rise, this is the right time for me to share this Menu Cover and offer it to other restaurants in Thailand. So, they can use the menu cover which is changeable pages and waterproof. Also, design the menu sheets with style as they would like. The cover is made of PU leather and unfolded 180 degrees that difficult to break, very durable. 
I offer not only this Menu Cover called the "LOFT menu folder", but can also offer 5 more styles,
Moreover, for meeting the restaurants' owners need, we developed to have Table-Floor Display for increasing sales opportunity and appealing more customers. Also, we service Menu Printing which is of great quality, and can print it on demand.
After running this online shop www.menu1folder.com, I found out that these Menu Covers are not only ideal for Restaurant, but also Hotels, Spas, even Real estate and Insurance Companies which used as Marketing Sale Kit. Some of the customers told me that they saw these Menu Cover style (Loft model) in the USA, Europe and Japan, and they are glad that it's finally available in Thai Marketplace.